---
Home » Content marketing » 5 Mistakes That Undermine Your Content Marketing Strategy
5 Mistakes That Undermine Your Content Marketing Strategy
On social media and on your website, it is important to publish a variety of different types of content in order to gain credibility and drive traffic to your website. Let's take a look at some common mistakes to avoid when creating content for your brand or business.
---
1. You may be trying too hard to sell, when in fact you should be educating
If you think content marketing is just a means of direct selling through the use of social media platforms, think again! Your goal is to educate, not sell… at least, selling isn't your primary goal here. It is important to understand that in digital marketing hard-selling almost never works. People are tired of being exposed to hundreds of ads each day and receiving cloying messages asking them to buy products they may not even care about or need. If you're going for the hard sell via these forms of media, this tactic will put people off and will likely cause them ignore your messaging and treat it like spam. In a nutshell, don't make the promotion of your business too obvious. Put on your best dress, but play hard to get a little bit.
On any given post, the best time to explicitly indicate that you are a business is actually at the end of your article, which should be accompanied by some kind of call-to-action. This can take the form of a link or clickable button that "calls" on the web user to make a decision (register for a newsletter, add a product to the cart or something to that effect). In order to incorporate an efficient call-to-action, you need to present people with useful and high-quality information. This will maximise the achievement rate of your objective.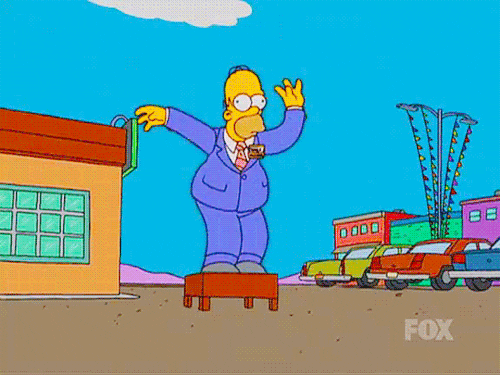 2. You try to go too fast
Here's a wild notion. Wouldn't it be great to see the results of your digital marketing campaign quickly? To have traffic on your website and a whole bunch of people purchasing from your brand just few hours after your post? Yes, this would be fabulous, but let's not mix up dreams and realities here people! To notice a long-term result in terms of Google Analytics, you'll need to be patient and put some effort into it. But be careful! It's never a good tactic to over-publish. This will just annoy people and they'll be even more likely to ignore you as a result of feeling badgered. They may even unfollow you to avoid further "spam".
It is essential to create a publication calendar in order to get your schedule in order. This is a process of trial and error. By analysing the popularity of your posts, you'll soon get to know which rhythm suits your audience best and you'll find the right balance so that only relevant and interested parties follow you.
3. You try to be everywhere all at once
In Robert Zemeckis' 1992 feature film "Death Becomes Her" fictional character Helen Sharp (played by Goldie Hawn) famously gagged that old arch-rival and washed-up actress Madeline Ashton (Meryl Streep) was so desperate for publicity that she'd "go to the opening of an envelope". Don't be a Madeline Ashton! There's no need to be active on every single social network out there today. Try to be a little understated in your approach. You need to know who your target audience is and where you're most likely to find them. Equally important is to understand the benefits of all the different platforms out there and the specific benefits they could bring to your business. When you select 3 or 4 channels that you know will fit your needs particularly well, you can concentrate on these in order to publish your content in the most efficient way possible. Even when you know which platforms are most suited to you and you have chosen the ones on which you'll take frequent residence, you need to think about the differences between them.
For example, Instagram is the perfect place to publish a sneak peek of your new product, but it is not suited to the publication of a long video. Your tone must also be adapted to the social network you're working on. You can be more friendly and approachable on Facebook, but it is important to maintain a certain professional distance on LinkedIn, for example. Whatever the platform may be, people have certain expectations about what they want to see, so you'll need to adapt your content to the different segments your audience may subsequently be divided up into.
4. Bad quality content
Your readers have to learn something thanks to your content. You can choose to explain a new concept, a new trend, give them some advice or help them solve a recurring problem. Bad quality, poorly written or vacuous content will do nothing for your business. People who consult content that exists purely for content's sake will not find any benefit in it, and they may go away with the feeling that they lost some of their valuable time, which is not good for your reputation. In addition, nobody will want to share bad content on their own social media platforms. You can publish 4 mediocre items of content several times per week, but it will likely be ignored if it's not up to scratch.
Moreover, it mustn't be forgotten that one of the primary goals of content creation is to redirect traffic to your website through honest and compelling means. If people feel duped by your content, nobody will visit your website and it could be detrimental to your image. Constantly beleaguered, people are growing tired of pointless clickbait and misleading content.
You should know the content you're most comfortable with and go with it, but it is always good to develop your creative side by changing your habits and experimenting with new styles every so often. A playful meme or an eye-catching infographic for example could be a way to renovate your content if you're becoming stuck in your ways.
5. You forget about SEO
SEO can sound scary to some people but in reality, once you get the hang of it, it is pretty easy to navigate. You should understand which are the best ways to optimise your content. For instance, If you post an image on a blog article, don't forget to give it a title. More than simply knowing the keywords you should target, try to incorporate them cleverly throughout your website (title tags, paragraph headings etc.) in a non-forced manner (this last point is critical).
SEO is vital to your website's success. Without it, it is almost impossible to find your business through the use to search engine. You need to constantly improve it with the help of the new content you publish
Content Marketing is a necessity for your business and you should take it very seriously. If you focus your efforts on quality and not quantity, and if you avoid past errors, you will be able to create content that is effective at driving traffic to your website and that will compel your target audience.
Content Marketing is our thing!
CONTACT-US!
Photo Credit: <a href="https://www.shutterstock.com/home">Shutterstock</a>
Photo de couverture
Photo 1
Photo 2
Photo 3 
---